This post may contain affiliate links. Please read my disclosure policy.
Enjoy your favorite childhood snack by making this Homemade Chex Mix recipe for your next holiday party. It's close to the original Chex party mix but has a few differences that make it really stand out.
Why you'll love this Chex Mix recipe!
Ingredient notes
Pretzels | Choose a fresh box of crunchy pretzels from the store. For the seasoning to stand out, keeping to the simple salted pretzels (not flavored) is best!
Chex cereal | I like rice Chex cereal, but wheat Chex also works. Chex is a staple in almost every classic snack mix recipe, so it's a must!
Cheese crackers | Cheez-Its are a popular pick, but feel free to use the generic brand or a similar cracker product.
Nuts | For additional texture, mix in almonds or pecans.
Butter | Unsalted butter melted is a tasty glue for the seasonings to stick to the cereal pieces and crackers.
Spices and seasoning | Season the buttery sauce with garlic powder, onion powder, cayenne pepper for a hint of heat, dried thyme, and black pepper — Delish!
Worcestershire sauce | Add a splash of Worcestershire sauce for extra savory flavor.
How to make delicious Christmas Snack Mix
Easily make a shareable batch of tasty Chex mix your guests can't get enough of!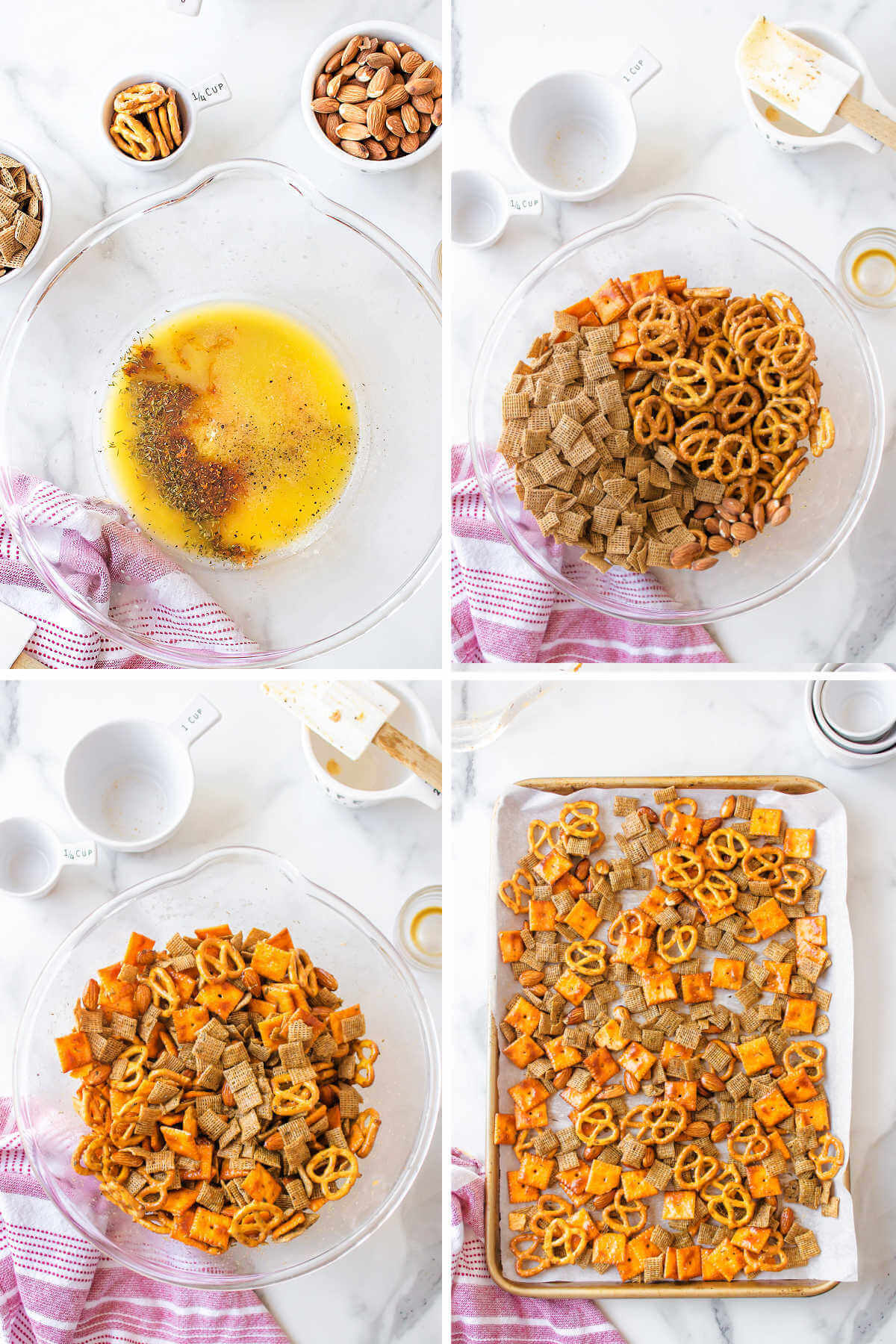 STEP 1 | Prepare and melt butter
Start by preheating the oven to 300 degrees F and preparing a large rimmed baking sheet or roasting pan with cooking spray and parchment paper, then set it aside.
Also, melt one stick of butter and keep it on low heat until ready to use for the recipe.
tip
Use paper towels to pat and absorb the excess butter and moisture, if preferred.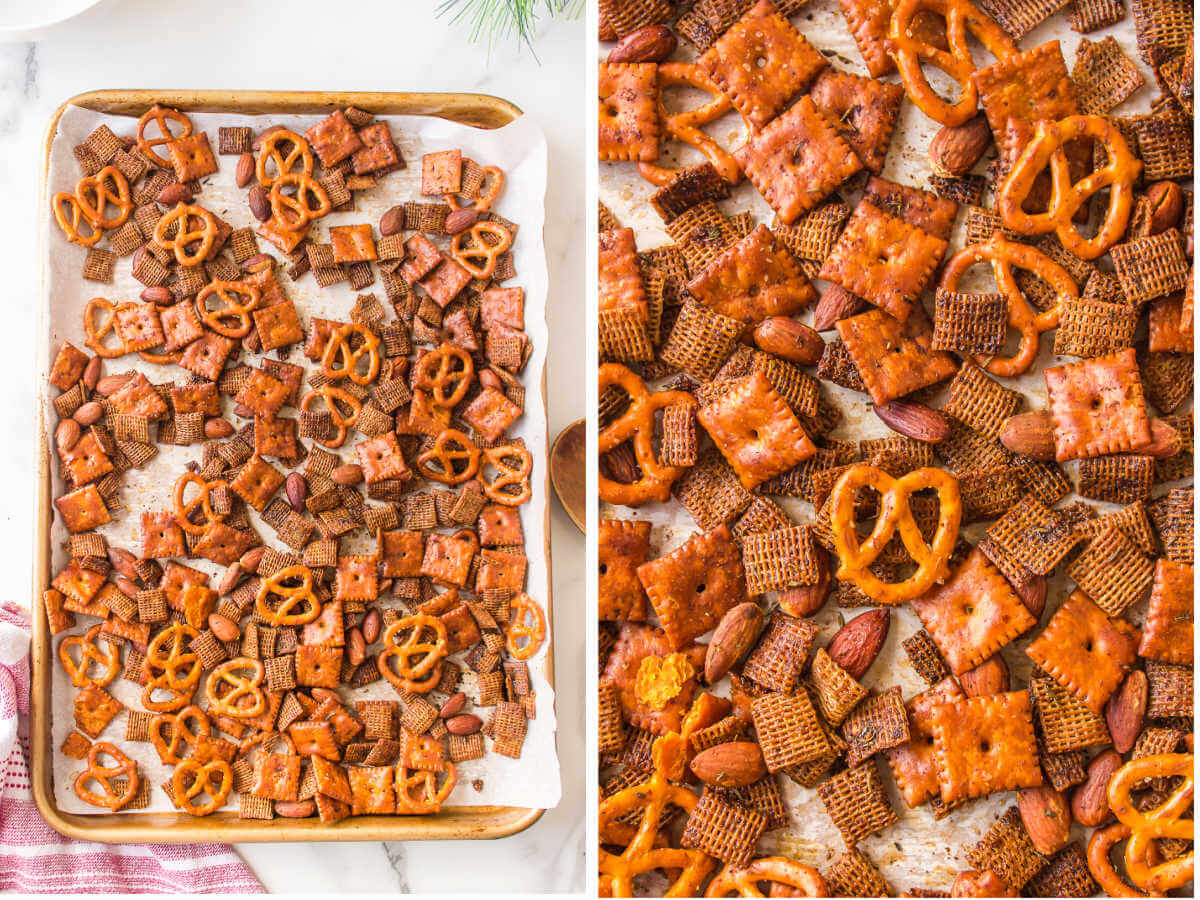 STEP 2 | Toss cereal mixture with seasoning and butter
Next, set out a large bowl and combine the melted butter, garlic powder, onion powder, thyme, cayenne, pepper, and Worcestershire sauce.
Then, add the dry ingredients, like the pretzels, Cheez-it crackers, almonds, and Chex cereal. Toss to combine and spread evenly on the baking sheet. 
Now, bake the recipe for 40 to 45 minutes, tossing the mix halfway through. Once it's finished toasting, let the party mix cool and bring it to room temperature. Then, let the party begin!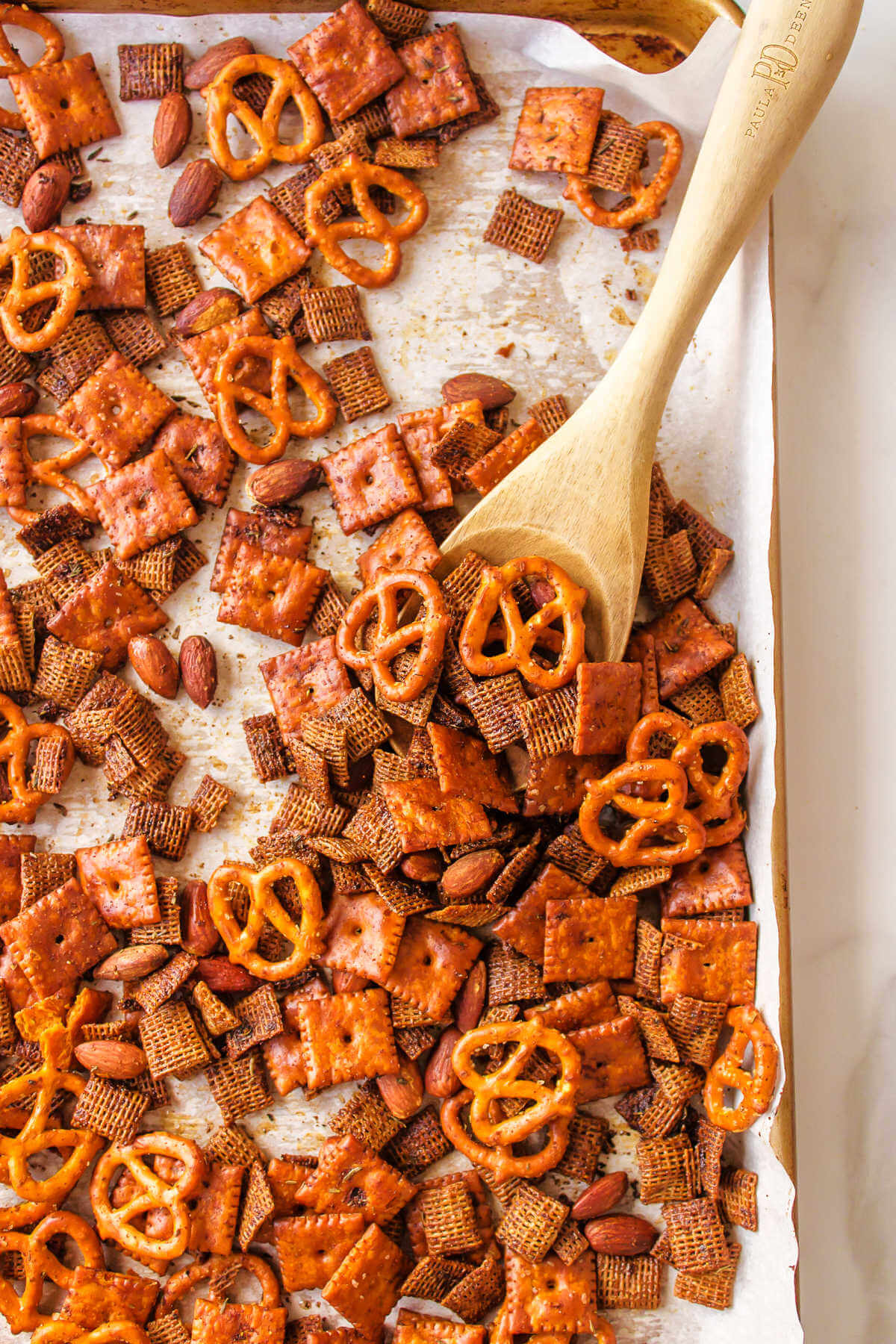 If you enjoy this easy recipe, check out my delicious gourmet popcorn mixes, like this Cheddar Cheese Popcorn, White Chocolate Peppermint Popcorn, and Homemade Caramel Corn with Nuts!
Variations and substitutions
Flavored Cheez-Its. Switch things up with flavored Cheez-Its, like the white cheddar, extra toasty, extra cheesy, pepper jack, hot and spicy, or even buffalo wing flavored Cheez-Its.
Different Nut Varieties. Feel free to use your favorite nuts, like cashews, pistachios, peanuts, walnuts, or another.
More or Less Spice. Up the heat with more cayenne pepper, or add a few drops of your favorite hot sauce instead of about half of the Worcestershire sauce. Or, if you prefer less heat, omit the cayenne pepper or reduce the suggested measurement.
Additional Add-Ins. Add more or substitute the crunchy snacks — bagel chips broken in half, potato sticks, pretzel sticks, gluten-free crackers, broken tortilla chips, or Goldfish crackers! If you're feeling extra creative, add a chocolatey twist with Muddy Buddies.
More Seasonings and Spices. Make the buttery seasoning your own by choosing some of your favorite spices and blends. Try seasoned salt, onion salt, Italian seasoning blend, or your favorite savory spices in your home pantry.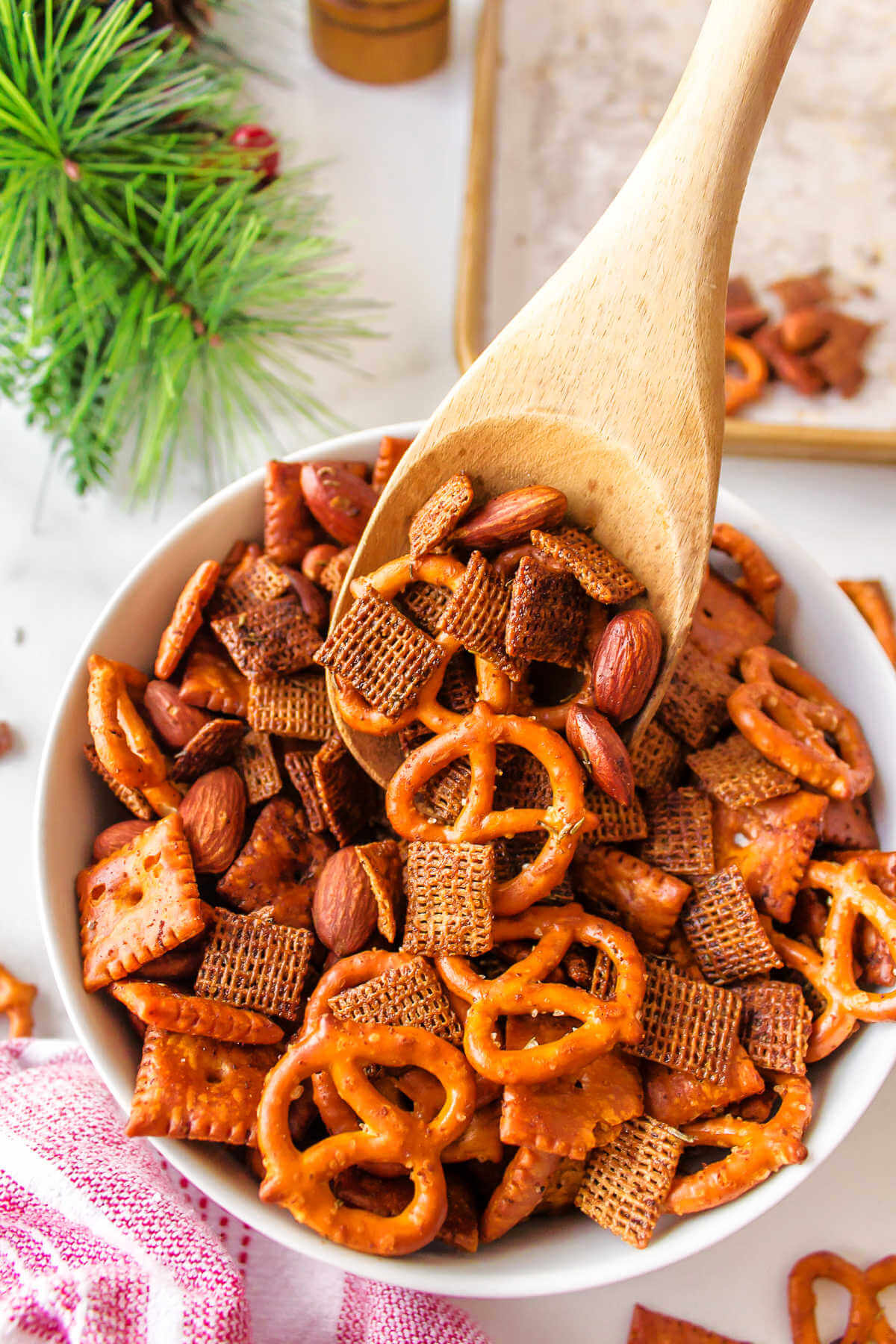 Love this recipe? Bookmark it for the future!
Simply tap the heart symbol located in the lower right corner of your screen, and the recipe will be securely stored in your own recipe box.
Storage tips
Store this Chex Party Mix Recipe in an airtight container at room temperature for up to 3 weeks if you have leftovers or want to make the snack ahead of time.
Serving suggestions for the Best Chex Mix Recipe
Serve this irresistible snack mix with a tasty beverage the whole family will enjoy, like this classic, steamy Hot Apple Cider Recipe, my rich Dark Chocolate Peppermint Mocha, or a cool and refreshing glass of Cranberry White Grape Christmas Punch!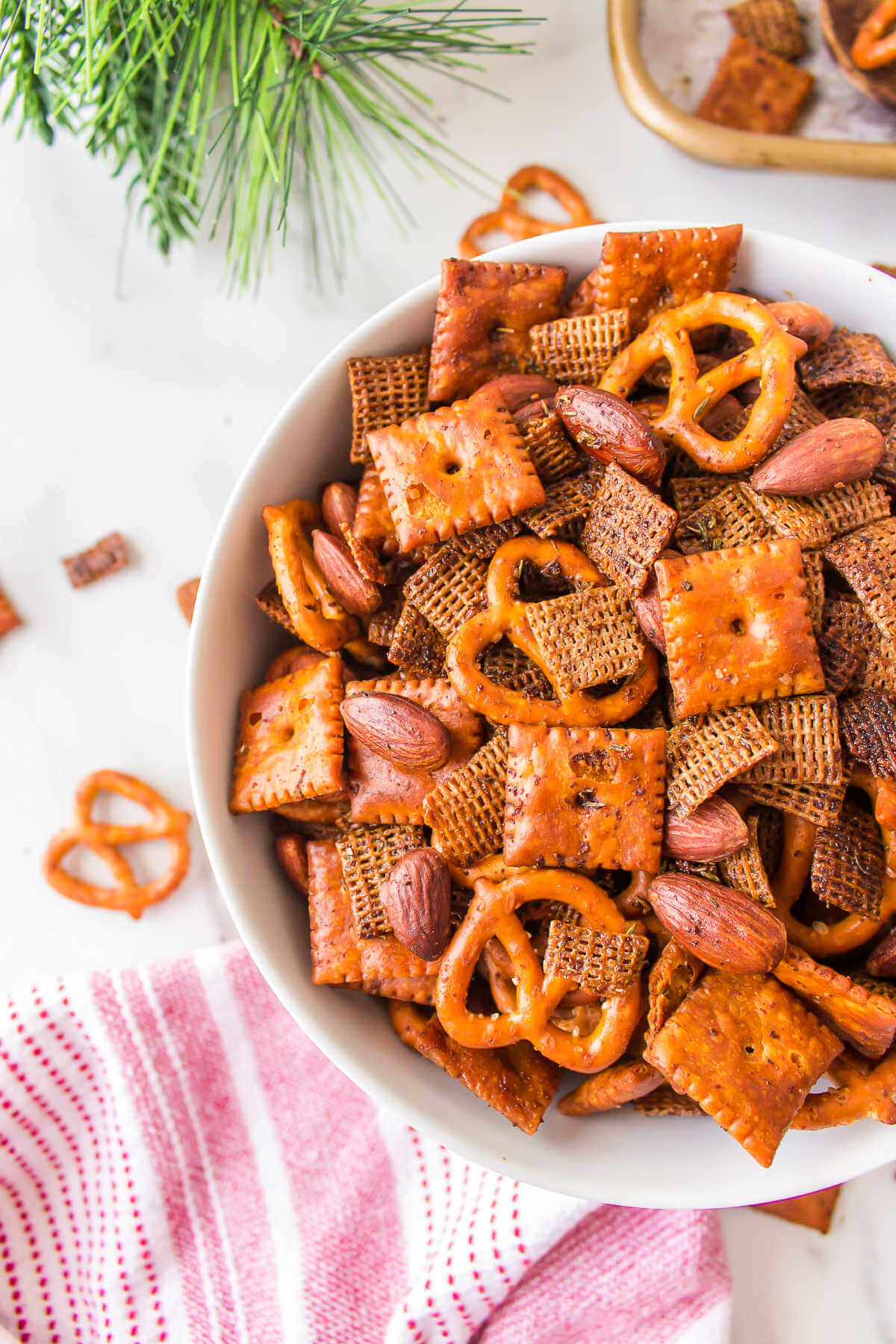 Frequently asked questions
Is it cheaper to buy a Chex Mix or make your own?
Like most homemade versions, Chex Mix is more budget-friendly when made from scratch. Plus, most would say it's more tasty, too!

What's the Chex Mix seasoning made of?
Typically, the seasoning includes seasoning salt, onion powder, and garlic powder. But, depending on the brand or the homemade recipe you choose, the combination will vary.

How do you keep homemade Chex Mix from getting soggy?
Easy! Just line the countertop or baking sheet with paper towels to absorb all the excess butter and sauce, or pat the crackers fresh out of the oven.

Why does my Chex Mix snack burn?
Remember to bake the snack at a low temperature. I've found that 300 degrees is best. Any higher temperature may risk burning.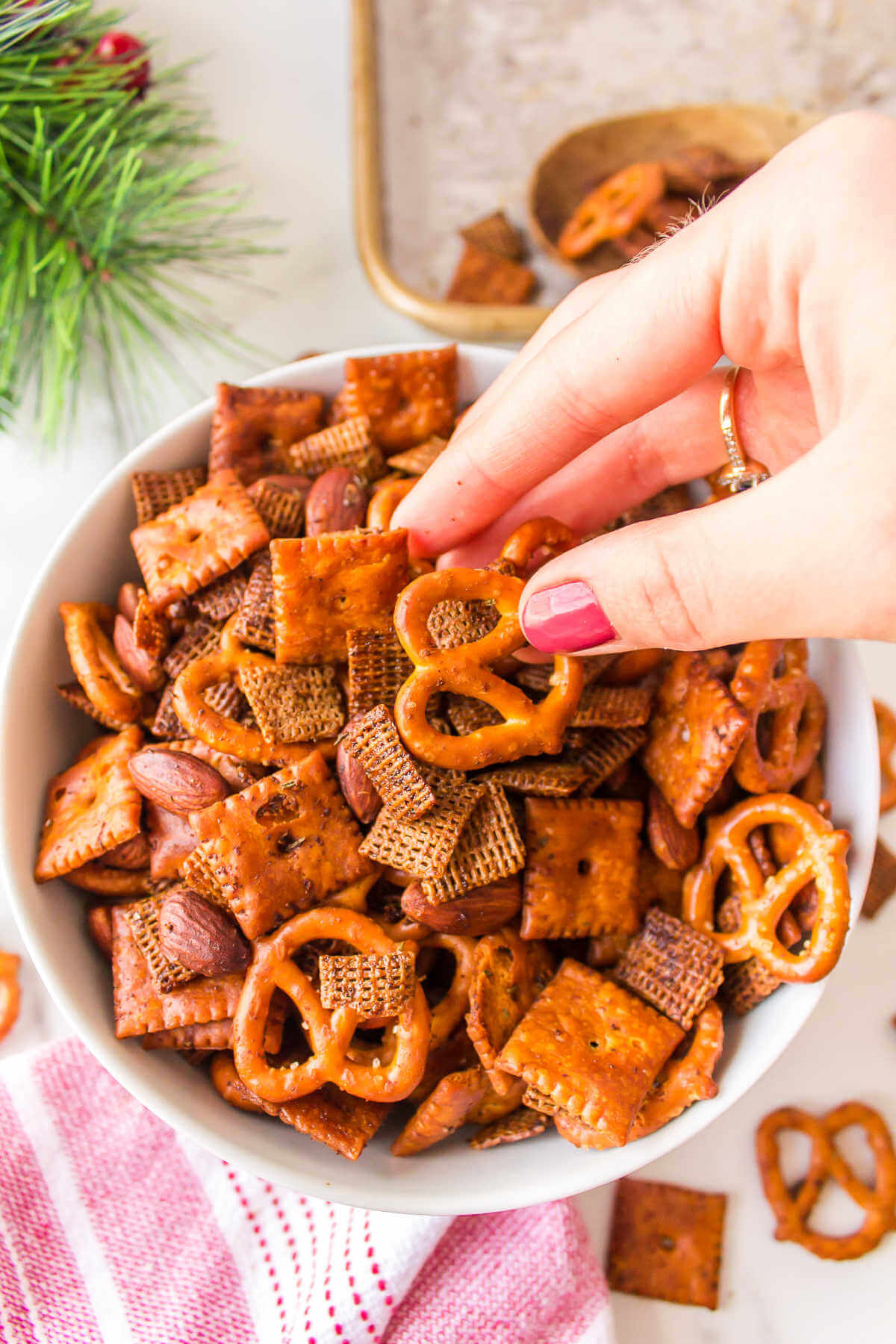 Behind the recipe: Classic Chex Mix Snack
This holiday classic snack first made its appearance in 1942, and by the 1950s, it was commonly printed on the back of cereal and cracker boxes. It's believed that the Chex mix was created by one of the sons of the founder of Chex cereal. However, this is highly debated, and there's no solid proof.
No matter the origins, this simple snack has stuck around as a family favorite for a reason! There's just something about the salty and crunchy mix of crackers and cereals tossed in butter and Worcestershire sauce that's so irresistible!
Please share!
Your shares are how this site grows, and I appreciate each one. Do you know someone who would enjoy this recipe? I'd love it if you would share it on Facebook or Pinterest!
Like this recipe?
Don't forget to comment below the recipe and please give it a ⭐️⭐️⭐️⭐️⭐️ star rating!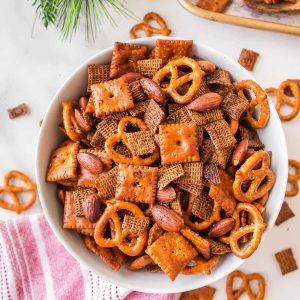 Homemade Chex Mix Recipe
Enjoy your favorite childhood snack by making this Homemade Chex Mix recipe with a few stand out ingredients for your next holiday party.
Ingredients
2

cups

pretzels

7

oz.

Rice Chex cereal

3

cups

Chez-Its crackers

1

cup

almonds

or pecans

1/2

cup

unsalted butter

melted

1/2

tablespoon

garlic powder

1/2

tablespoon

onion powder

1

teaspoon

cayenne pepper

1/2

tablespoon

dried thyme

1

teaspoon

black pepper

1

tablespoon

Worcestershire sauce
Instructions
Preheat the oven to 300 degrees. Prepare a large baking sheet with cooking spray and parchment paper, set aside.

In a large bowl combine butter, garlic powder, onion powder, thyme, cayenne, pepper, and Worchestire sauce. Add in pretzels, Cheez-it crackers, almonds, and chex cereal. Toss to combine and spread evenly on the baking sheet. Bake for 40-45 minutes tossing halfway through.
Notes
You can use your preferred type of nut or Cheez it. Any flavor will work! To make it less spicy you can omit the cayenne pepper.
You can store it in an airtight container at room temperature for up to 3 weeks.
Life Love and Good Food does not claim to be a registered dietician or nutritionist. Nutritional information shared on this site is only an estimate. We recommend running the ingredients through an online nutritional calculator if you need to verify any information.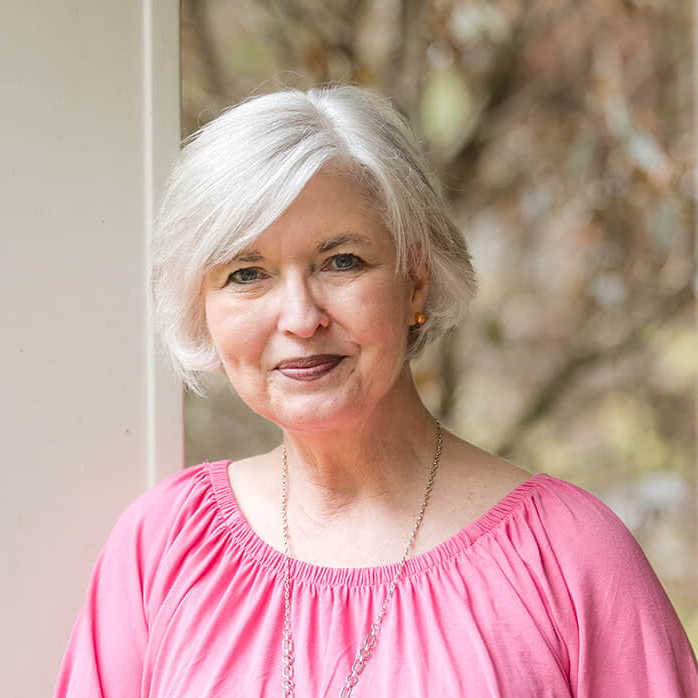 About Sheila Thigpen
Recipe Developer, Food Photographer, Food Writer
Sheila Thigpen is the publisher of Life, Love, and Good Food — a Southern food blog — and the author of Easy Chicken Cookbook and The 5-Ingredient Fresh and Easy Cookbook. After 20+ years in the publishing industry, she retired in 2018 to focus on her own creative endeavors full time. She and her husband live near the beautiful Smoky Mountains and have a precious little granddaughter who has stolen their hearts. As an influencer, Sheila has collaborated with brands like Creamette, Kroger, HERSHEY'S, Hamilton Beach, Garafalo Pasta, OXO, Smithfield, Valley Fig Growers, and more.