Pan-fried chicken cutlets are finished in the oven Mediterranean-style with petite fingerling potatoes, olives, and fresh lemon.
This Chicken Cutlets with Olives and Fingerling Potatoes recipe was inspired by a dish I recently enjoyed at the trendy Emilia's, a local Italian restaurant, in Knoxville, Tennessee.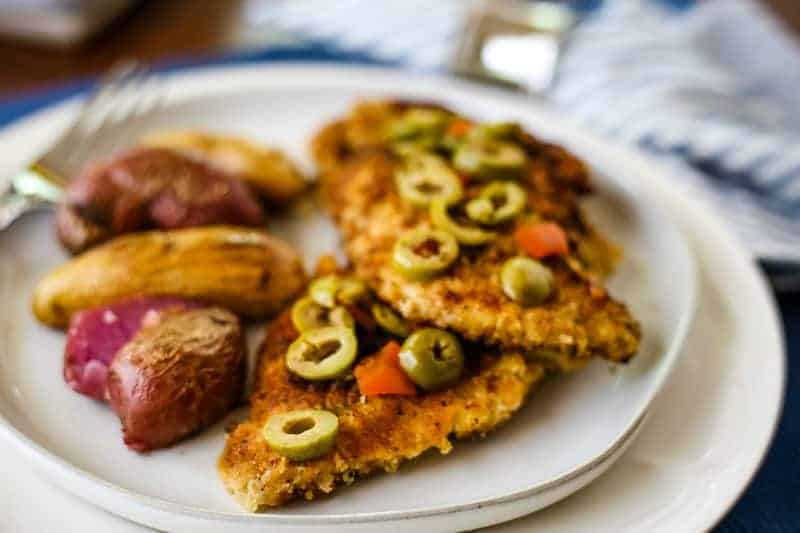 Emilia's menu, created by Chef Matt Gallaher and inspired by the Emilia-Romanga region of Italy, includes a variety of delicious antipasti and seasonal pasta dishes.
My favorite is their Pollo a Mattone, a half chicken cooked "under a brick" with an olive oregano pan sauce and crispy fingerling potatoes.
I loved the flavor combination in this dish so much that I decided to add olives and potatoes to my Sunday chicken cutlets.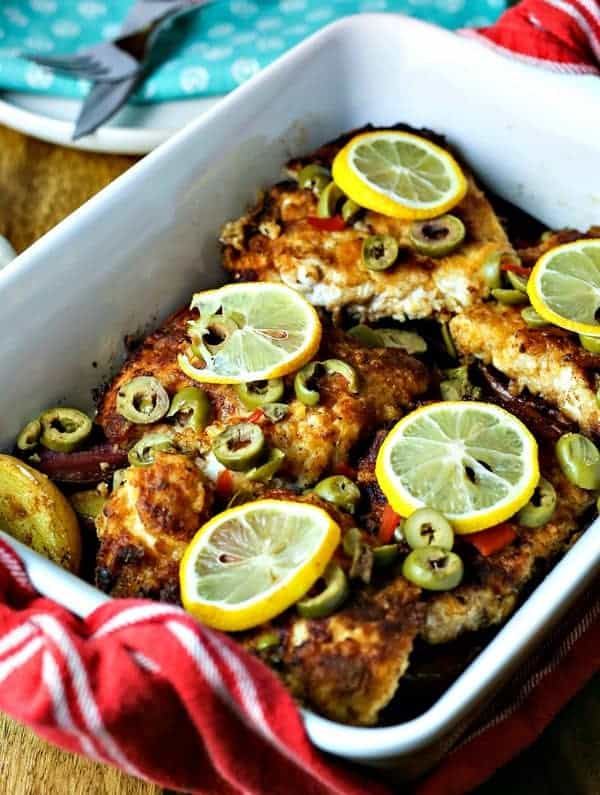 Three-Step Dredging
For this dish, I used the traditional three-step procedure for dredging chicken which gives it a crispy coating and helps seal in moisture when frying. (I also use this method in my Crispy Oven-Fried Fish Filets.)
To do this, you'll want to set up a dredging "station" with three shallow dishes and follow these steps:
Dredge the chicken in flour.
Dip in beaten egg.
Roll or dredge in bread crumbs.
PRO TIP: Complete all the dredging and place the chicken on a baking sheet lined with parchment paper. Clean up the dredging station before jumping into the pan-frying. Seriously, cleaning up as you go makes after dinner clean-up so much easier!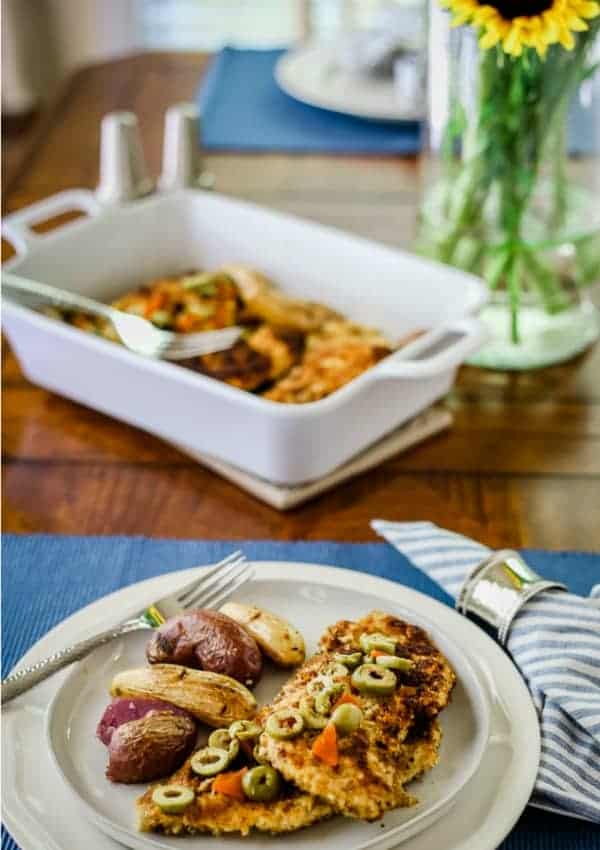 Sunday Dinner
This recipe requires several steps, so I wouldn't necessarily recommend it for a quick weeknight meal. It's not particularly difficult, but it does take a little time because of the dredging process, making it prefect for a lazy afternoon Sunday Dinner.
You know, in the South, Sunday Dinner is actually served on Sunday afternoon (really it's a late lunch). I'm not sure why it became Sunday Dinner—I guess we call it that to make it sound fancier!
Related recipes
For the fingerling potatoes, I followed the technique my grandmother used for cooking "new" potatoes from our garden. She took the small, early-harvested potatoes and boiled them with the still-tender skins on until they pierced easily with a fork.
Next, she would pan-roast the potatoes in melted butter until they were a little bit crispy and golden, adding a sprinkle of salt and pepper. Perfection!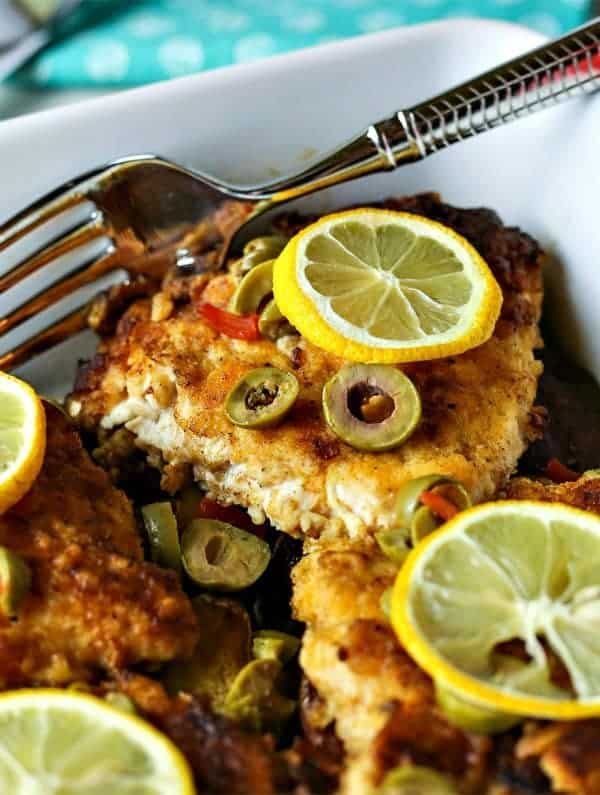 To finish this chicken-potato-olive meal, layer the cooked potatoes and chicken in a casserole dish with olives and sliced lemons and pour a small amount of fresh lemon juice and chicken broth over the top.
Pop the dish into a 375-degree oven for about 20 minutes and it's ready to serve!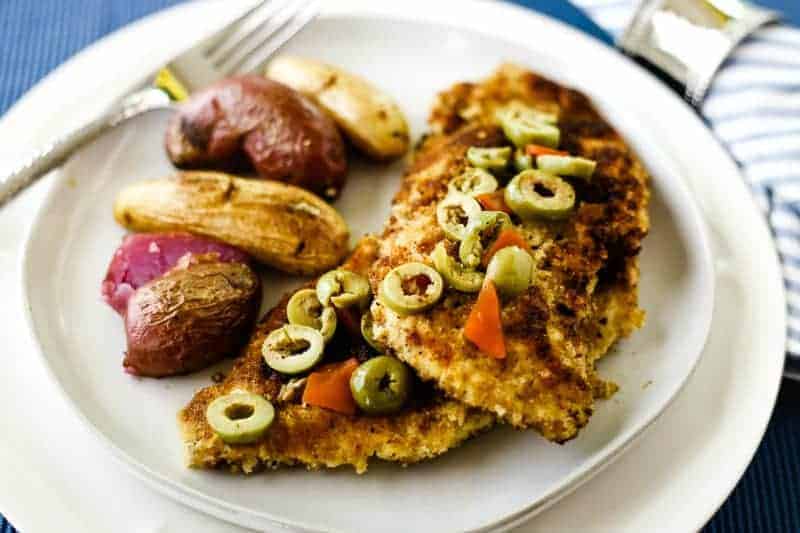 Did you make this Chicken Cutlets with Olives and Fingerling Potatoes recipe?
If you like this recipe, please do me a favor and give it a 5-star rating!
Follow me on YouTube, Pinterest, Instagram, Facebook, and Twitter!
Yield: 4 servings
Chicken Cutlets with Olives and Fingerling Potatoes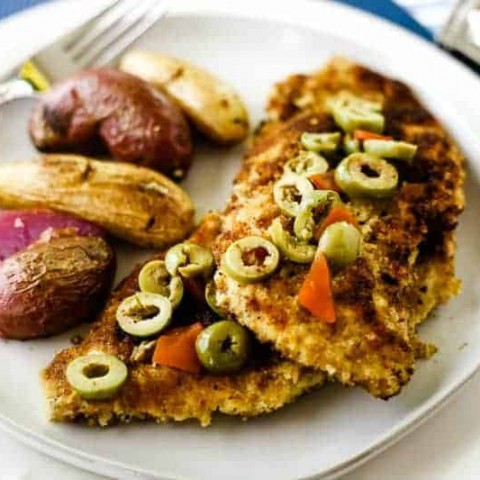 Pan-fried chicken cutlets are finished in the oven Mediterranean-style with petite fingerling potatoes, olives, and fresh lemon.
Total Time
1 hour
15 minutes
Ingredients
1 lb thin-sliced boneless, skinless chicken breast
1/2 cup Italian-seasoned bread crumbs
1/2 cup Panko bread crumbs
3/4 cup all-purpose flour, for dredging
1 large egg, beaten
olive oil, for frying
1 lb petite fingerling potatoes
2 tablespoons butter
1/2 cup sliced green olives with pimentos
1/2 cup chicken broth
1 large lemon
salt & pepper, to taste
Instructions
Preheat oven to 375 degrees.
Cook the Potatoes
Place fingerling potatoes in a large pan and cover with water. Bring to a boil over medium-high heat and continue cooking for about 15 minutes or until tender. Remove from heat and drain.
Once the chicken is done, use the same pan to melt 2 tablespoons of butter. Add the drained fingerling potatoes and cook and stir until coated with the butter and lightly browned, about 5 minutes. Season with salt and pepper and add to the casserole dish with the chicken.
Cook the Chicken
While the potatoes are cooking, set up a dredging station with three shallow dishes: 1) Place the flour in the first dish; 2) add the egg and a splash of water to the second dish ; 3) In the last dish, combine the Italian and Panko bread crumbs.
Season the chicken with salt and pepper. If unable to find thin-sliced chicken breasts, use a meat mallet to pound chicken breasts to 1/4 inch thick. To bread the chicken, first dredge in the flour covering all sides. Next, dip into the egg, and finally into the bread crumbs, making sure to evenly coat the chicken. Place the chicken on a platter until ready to cook.
Heat 2-3 tablespoons of olive oil in a non-stick skillet. Add 3-4 piece of chicken and cook for 2-3 minutes on each side or until golden brown. Remove the chicken to a 9x13 casserole dish. Add more olive oil to the pan and continue cooking the chicken in batches.
Finishing the Dish
Thinly slice 1/2 of the lemon. Squeeze the juice of the other half on top of the chicken and potatoes along with 1/2 cup of chicken broth. Next, sprinkle with the olives and top with the lemon slices. Bake for 20-30 minutes or until the liquid is reduced in half.
Recommended Products
As an Amazon Associate and member of other affiliate programs, I earn from qualifying purchases.
Nutrition Information:
Yield:
4
Serving Size:
1
Amount Per Serving:
Calories:

630
Total Fat:

21g
Saturated Fat:

7g
Trans Fat:

0g
Unsaturated Fat:

12g
Cholesterol:

159mg
Sodium:

1083mg
Carbohydrates:

64g
Fiber:

6g
Sugar:

4g
Protein:

46g