Brined first and then grilled to crisp up the skin, BBQ Chicken with Memphis-Style BBQ Sauce is basted with the tangy homemade sauce that creates a delicious glaze. Mouth-watering and finger-licking good, this chicken is succulent, tender, and delicious.
Use quarters or a whole cut-up chicken for this recipe and start off skin-side down on a hot grill to create fancy grill marks, then finish it up in the oven. Bone-in chicken takes longer to cook, but eating this chicken with your hands is part of the appeal.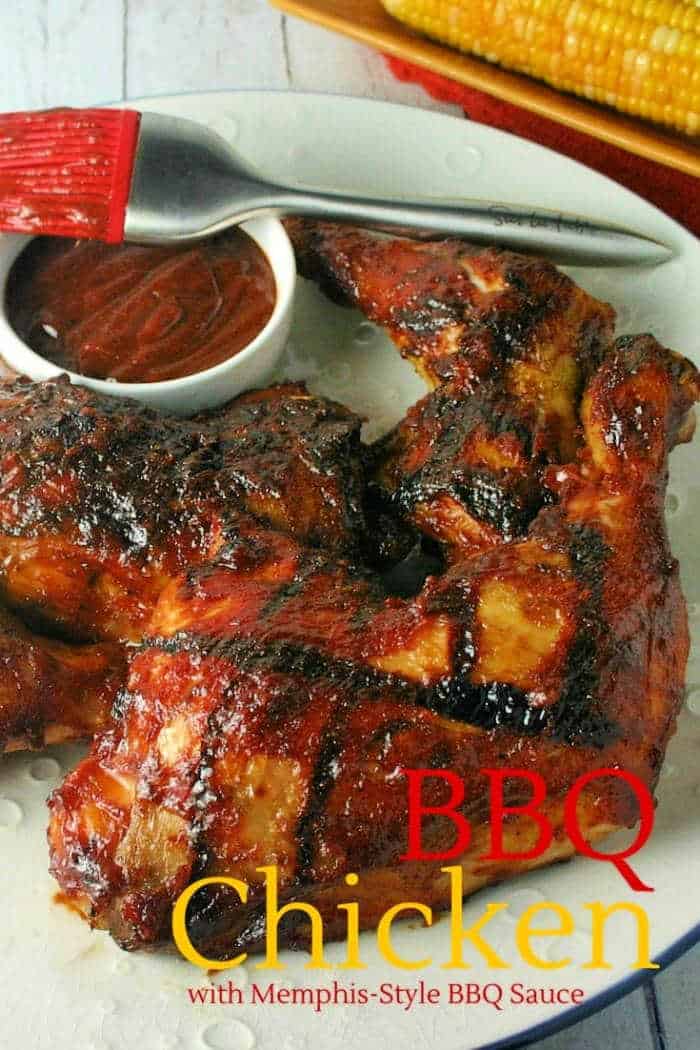 BBQ Chicken
It will soon be Memorial Day and you know what that means — Summer barbecue season is here! I love everything about grilling, eating, and casual outdoor entertaining.
What's really nice is that our barbecue meals are a combined effort. I do a lot of the menu planning and prep work and then John mans the grill while we hang out on the deck and enjoy a cool drink.
It's a time of laughter and togetherness, and always great food! One of my favorite grilling meals is BBQ Chicken with Memphis-Style BBQ Sauce. We brine chicken leg quarters ahead of time, grill them to crisp up the skin, and then finish off cooking and basting with a tangy homemade sauce.
Grilling takes the formality out of entertaining. Everyone wants to get involved. —Bobby Flay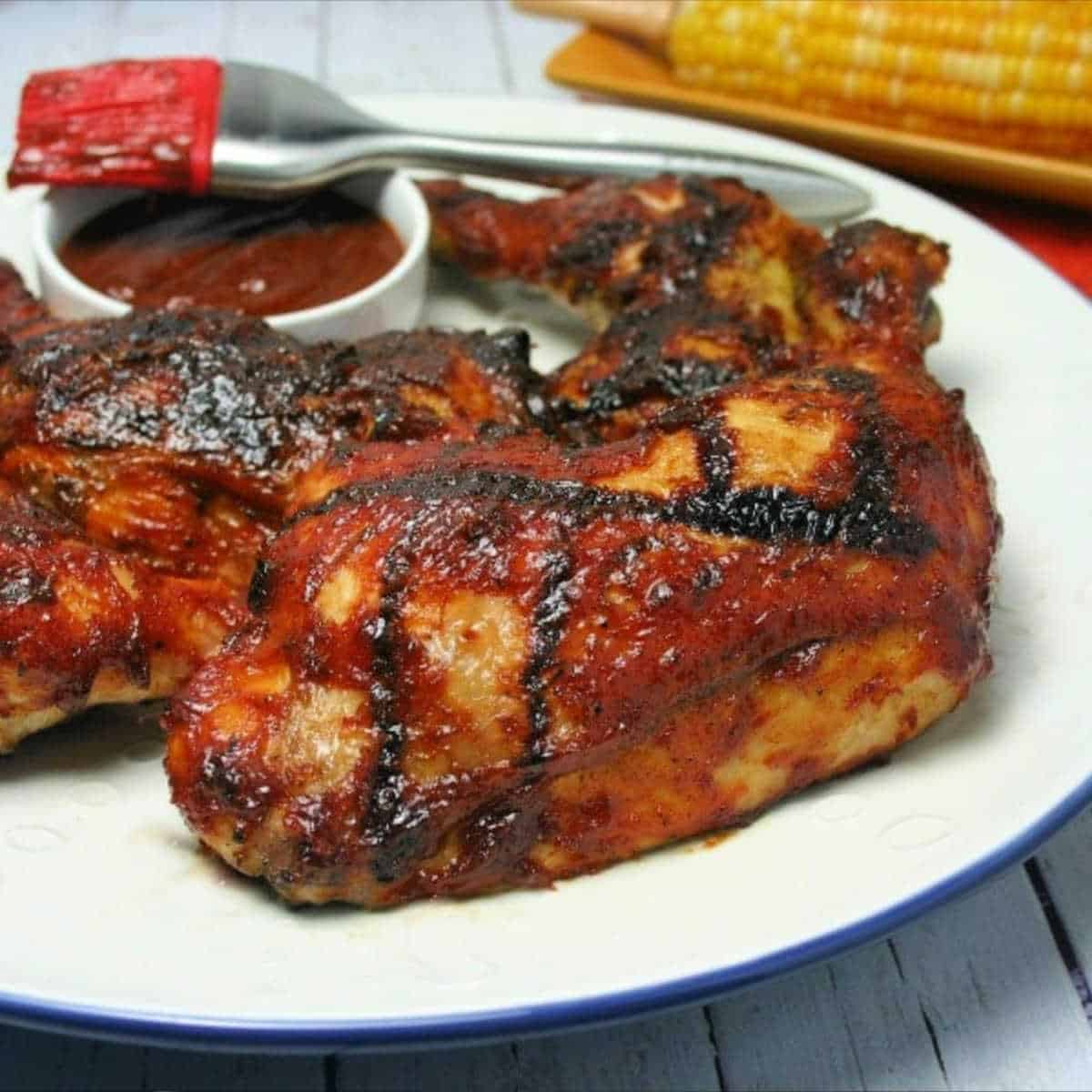 What does it mean to brine a chicken?
Brine is a solution of water, lots of salt, and often spices and brown sugar. Soak raw chicken in a brine mixture for at least 30 minutes or even up to 24 hours in the refrigerator. Brining tenderizes the bird with delicious and juicy results.
Is homemade BBQ sauce really worth it?
Absolutely! There's nothing wrong with using a store-bough barbecue sauce, but making your own is a lot of fun. We eat a lot of barbecue around here, from smoked meats to outdoor grilling, and enjoy tweaking the sauce depending on our mood. The beauty of making your own BBQ sauce is that you can control the level of spice or sweetness.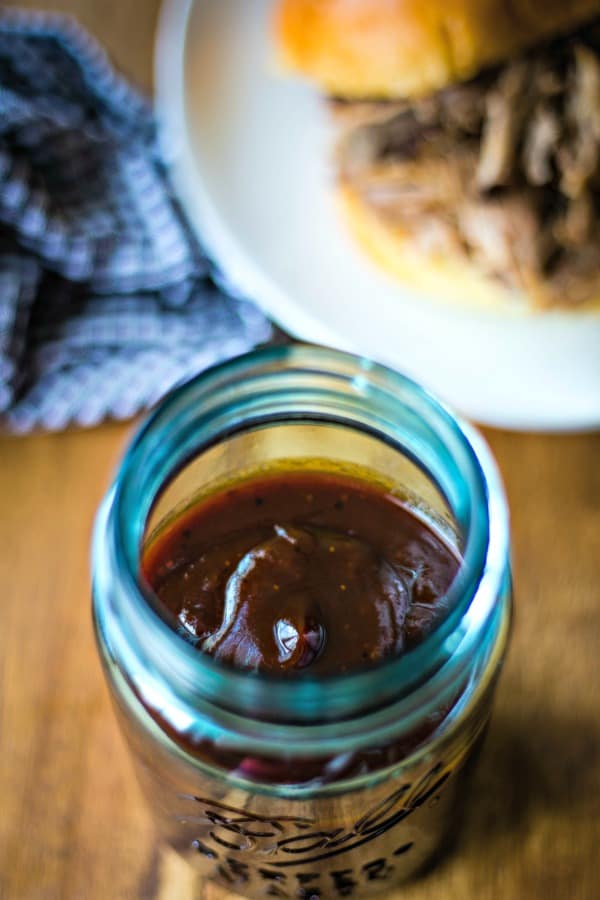 Menu for Memorial Day Picnic
Just in time for Memorial Day weekend, here's my suggestion for a complete outdoor feast:
BBQ Chicken with Memphis-Style BBQ Sauce (see recipe below)
Fresh Herb Potato Salad — The flavor of this classic, creamy potato salad is enhanced by using fresh herbs—tarragon and parsley—in the dressing. You'll make Grandma proud with this recipe!
Chipotle Baked Beans — Smoky and spicy, unexpected chipotle peppers in these beans kick it up a notch! Leave out the bacon for a vegetarian version.
Spicy Grilled Corn — Sweet and spicy, this grilled corn is a real summertime dinner treat. The real secret is grilling in the husks.
Corn and Avocado Salad — Add cherry tomatoes, red onion, and a light vinaigrette to a bowl of fresh corn for a fresh and easy summer side dish.
Rustic Cherry Tart — Bake fresh cherry filling on top of this easy 5-minute pie dough and you've got yourself a delicious Summer dessert that any novice baker can master.
To make this recipe, you may need…
P.S. I love this little basting brush by Sur La Table and use it ALL the time.
BBQ Chicken with Memphis-Style BBQ Sauce Recipe
Please share!
Your shares are how this site grows and I appreciate each one. Do you know someone who would enjoy this recipe? I'd love it if you would share it on Facebook or on your favorite Pinterest board!
Yield: 4 servings
BBQ Chicken with Memphis-Style BBQ Sauce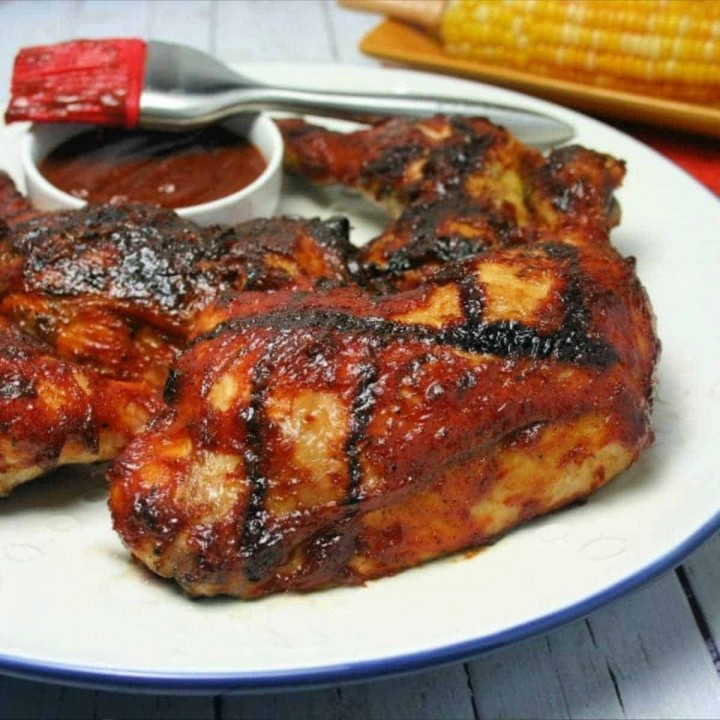 BBQ Chicken with Memphis-Style BBQ Sauce. Brined, grilled to crisp up the skin, and finished off by basting with a tangy homemade sauce.
Ingredients
Brine
1 quarts water
1 tablespoon salt
2 tablespoons brown sugar
1 garlic clove, crushed
2 sprigs fresh thyme
4 chicken leg quarters
BBQ Sauce
1/4 cup firmly packed brown sugar
1 tablespoon chili powder
1 teaspoon black pepper
1/2 tablespoon onion powder
1 teaspoon garlic powder
1/2 teaspoon celery seed
1 teaspoon seasoned salt
1 cups ketchup
1/4 cup mustard
2 tablespoons apple cider vinegar
1-1/2 tablespoons Worcestershire sauce
1 tablespoon canola oil
Instructions
Place chicken into a gallon-size ziplock bag. Combine all ingredients for the brine and pour into bag with chicken. Seal tightly and refrigerate for up to 2 hours (at least a minimum of 30 minutes).
Remove chicken from bag and pat dry with paper towels, discarding the brine.
Oil grill grates and heat to medium high. Place chicken on grill and cook about 10 minutes on each side to crisp up the skin and get nice grill marks.
Bake chicken in a 375 degree oven to finish cooking, about 35-40 minutes or until chicken reaches an internal temperature of 170 degrees. After 20 minutes, baste all over with barbecue sauce. Baste again before the end of cooking.
Serve with extra sauce.
BBQ Sauce
In a medium saucepan, stir together all the ingredients except the oil. Bring to a boil, then reduce the heat and simmer for 25 minutes.
Add 1 tablespoon canola oil and whisk until well blended.
Recommended Products
As an Amazon Associate and member of other affiliate programs, I earn from qualifying purchases.
Nutrition Information:
Yield:
4
Serving Size:
1
Amount Per Serving:
Calories:

187
Total Fat:

4g
Saturated Fat:

0g
Trans Fat:

0g
Unsaturated Fat:

4g
Cholesterol:

0mg
Sodium:

2819mg
Carbohydrates:

38g
Fiber:

2g
Sugar:

30g
Protein:

2g