This post may contain affiliate links. Please read my disclosure policy.
Hello, friends! Lately, my life has been filled with sparkle and shine!
John and I were thrilled that our 4-year-old granddaughter's parents allowed her to travel back to Knoxville from Nashville to spend the week with us — and she is ALL ABOUT anything that sparkles!
Our family had gathered in Nashville to celebrate Jyothika's new baby brother (due in March) and since everyone planned to be in Knoxville the next weekend, it just made sense to Nana that she should come for a visit. 😉
We had a fun-filled week, but I've got to admit by the end of it I was exhausted!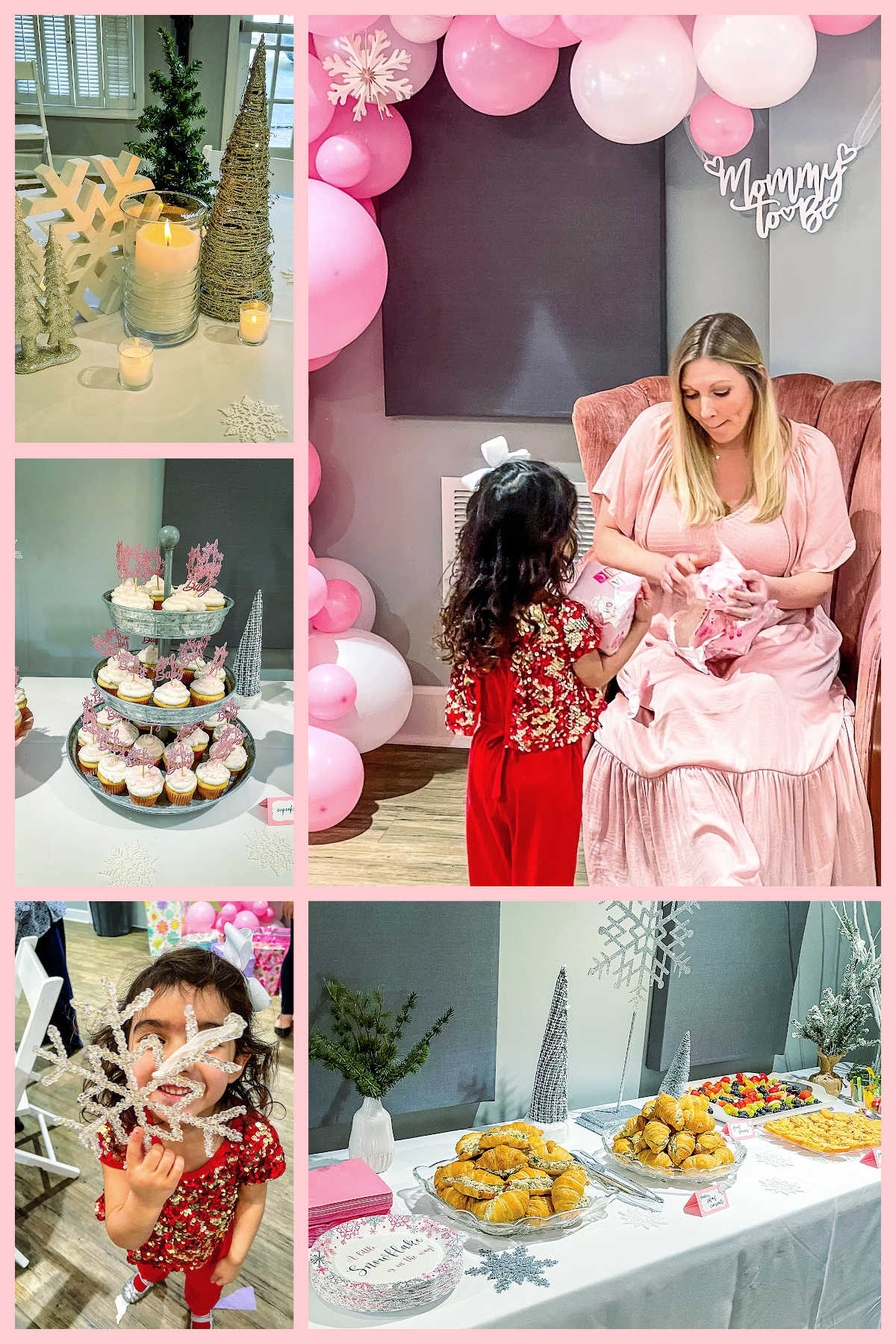 Celebrating a baby — again!
Cue up baby shower number 2! We had back-to-back weekends celebrating our daughters who are both due in March — a day apart, in fact!
The celebration in Knoxville was absolutely lovely. A Little Snowflake is on the Way was the party theme, and Lindsay's friends really outdid themselves with all the decorations and party details.
To Jyothika's glee, there was plenty of sparkle at Aunt Lindsay's baby shower — she was the perfect little gift helper although she confiscated all the shiny ribbons and tissue paper for herself!
I made my "famous" chicken salad to serve on croissants and Lindsay's sweet mother-in-law made cupcakes (we used my galvanized tiered serving tray to display them) and decorated my vanilla snowflake cookies as the party favors.
It was definitely a team effort and so much fun!! In about 6 weeks, we will be welcoming our new grandson and granddaughter! Of course, we are elated!
What I've been cooking lately
Cooler weather means comforting and cozy meals are in order — these recipes are guaranteed to warm up your soul!
Valentine's sweet treats!
Valentine's Day is just a couple of weeks away, so if you're thinking about making something special for your loved ones, here are a couple of really easy ideas!
And, if you want to get a little more industrious, try these delicious options!
Reader review
I love hearing from readers when they find a recipe they love! 💕 Be sure to rate and comment below any recipe you try and let us know what you think — curious minds want to know!
---
Easy Homemade BBQ Sauce
"Your recipe looked good, so I walked to the kitchen and made it. I determined it's not just good, but delicious! I plan to make another batch to store." — Scott
---
Inspiration
I'm already missing our sweet Jyothika — especially her infectious smile and exuberance. Here's to shining a light and spreading joy!
I love this song by Kari Jobe and hope it will be an inspiration to you today, my friend. ♥️
We are the light of the world
We are the city on the hill
We are the light of the world
We gotta, we gotta
We gotta let the light shine.

— Kari Jobe
Thank you for being a faithful reader and supporter of Life Love and Good Food — it really means so much to me as a small business!