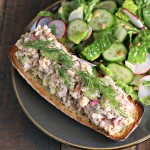 Print
Smoked Trout Tartines
Smoked Trout Tartines – a fancy French open-faced sandwich topped with fancy smoked trout spread.
2

smoked trout fillets

1

small baguette

3

radishes

thinly sliced

1

small cucumber

thinly sliced

1

Romaine heart

chopped

1

stalk celery

thinly sliced

1

bunch dill

remove from stems and chop half (use remaining for garnish)

2

tablespoons

Crème Fraîche

2

tablespoons

roasted sunflower seeds

2

tablespoons

white wine vinegar

2

teaspoons

sugar

2

teaspoons

whole grain Dijon mustard

1

shallot

thinly sliced
Pickle the shallot:
In a small saucepan, combine sugar, 1-1/2 tablespoons of the vinegar ,and 2 tablespoons of water. Stir in the sliced shallot and heat Het to boiling over medium-high heat. Simmer 3-4 minutes until shallots are soft and liquid has reduced slightly. Remove from heat.
Prepare the Trout Spread:
Place the trout fillets in a medium size bow and flake into small pieces with a fork. Add the celery, crème fraîche, mustard, chopped dill, and pickled shallot (reserving the pickling liquid). Drizzle with 1 teaspoon olive oil and stir to combine. Season to taste with salt and pepper.
Salad:
In a large bowl, combine the romaine, radishes, cucumber, sunflower seeds, remaining vinegar and reserved pickling liquid. Drizzle with 1 teaspoon olive oil and toss to coat; season with salt and pepper to taste.
Assemble:
To make the tartines, evenly top the toasted baguette with the trout spread and garnish with the whole dill, if desired. Serve with side salad.